Period Taboos: Scotland and the World by Lucy Small
Written by Lucy Small
Recently Yeung Wing was interviewed about her time on a game show and gave a somewhat unexpected answer when asked why it was so hard: "This was the first day of my period. I was very uncomfortable."
Periods and the issues around openness when it comes to this topic are a global problem – a large majority of women do not feel comfortable talking about their period. Yueng Wing's comment, however little, broke a somewhat radio silence in China on the topic – which resulted in a lot of my female Chinese friends messaging me about this.
Having worked as an English teacher in Xuzhou, Jiangsu for five months I had to face some of the realities of having my period in a country where tampons are not only wildly expensive (definitely out of my budget while I was there), but in some areas non-existent.
Some of the experiences I had were so strange that they became funny. The toilets that I used in almost all public places where squat toilets (this is not unusual across most of Asia/Africa and not the part that I found difficult) but were often not private.
And children are curious – many of them had never seen a Caucasian woman in person – so when I naively went to the bathroom on my the first day of teaching and was met with around an audience of 50 or so children (there was nothing malicious in their intent of course), needless to say I could not use the toilet like that.
I eventually had to bribe other teachers to block the doors when I needed to use the toilet – which, when I was on my period, was often. This experience was more about level of comfort and privacy – things you might not know how closely you hold dear until what is familiar is gone.
The issues I had within my flat were more complicated. We lived in old communist style flats on the sixth floor, and often the water pressure would not reach our floor. Not much of an issue for my male flatmate, but this problem went on at one point for ten straight days – of course, when I had my period! This became a genuine issue of hygiene and massive discomfort – we could not shower or use the toilet.
These were experiences, having grown up in Edinburgh, that I had never had to face before, but were fast becoming a daily reality, made more complicated as the discussion of periods and issues around it was relatively taboo.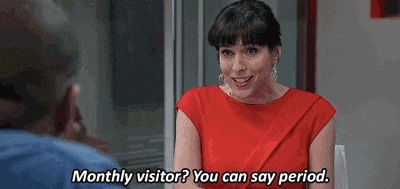 When I came home, I remember how for the first time in my life I was SO grateful for on-demand showers, toilets that flush within a bathroom and was living in a haze of euphoria. But then the cloud lifted and it once again became obvious how much work Scotland has to do when it comes to periods.
Don't get me wrong, I realise the privilege I have in even being able to write about this, and that we are talking about nitty-gritty minor details in comparison to some countries and cultures. But those are the everyday realities for women in Scotland and me – so they are valid and important.
Those who get periods are estimated to pay £18,450 in a lifetime, and naturally those that this effects most are those in lower income families, which is why it makes me very proud that Scotland brought out a pilot scheme (so far only in Aberdeen) to help women from low income families with free period products. But it isn't just the cost – 1 in 5 women polled were too embarrassed to talk about their periods, and I genuinely understand why.
I dread the monthly trip to the shops, the awkward eye contact as you pass over the period products and try and not draw attention to yourself – but why? Why should I be ashamed of this?
These are my thoughts and experiences on periods but it is a universal experience, and I think we need more open discussion in Scotland, and more women like Yueng Wing globally.
Pictures courtesy of Recipes for Self Love, Giphy, and Giphy.
---
Lucy Small is a politics graduate of Newcastle University and The University of Hong Kong living in Edinburgh. In her spare time she enjoys kickboxing, being overly sarcastic, drinking wine and planning her next travel destination. She is passionate about refugee rights and mental health, which has lead to her being involved in projects with these issues in Scotland and abroad. Find her on Instagram @loosmall.
Back To Top